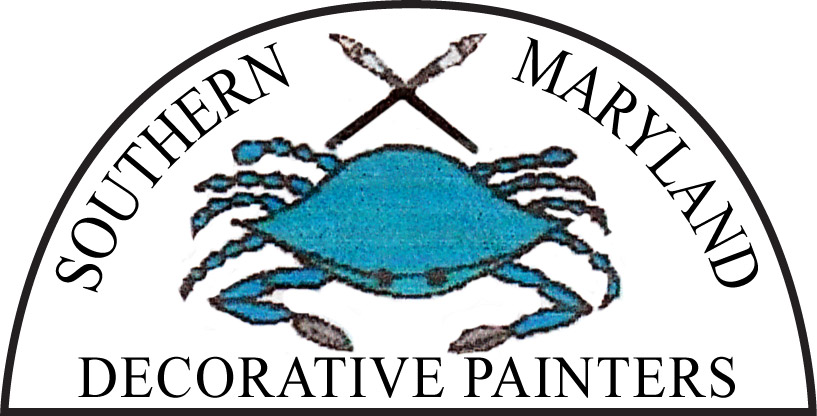 About Southern Maryland Decorative Painters
The Southern Maryland Decorative Painters ("SMDP") is a group of approximately 50 painters who get together regularly to paint, share ideas, teach and learn from each other. SMDP also paints to serve the community. [Currently we paint ornaments and decorate one of the Hospice Trees in either St. Mary's, or Calvert County, as well as donate regularly to area food banks and the Charlotte Hall Library.]

Our Chapter was established in 1996 by a few men and women who wanted to promote decorative painting in Southern Maryland. The Chapter is based in Charlotte Hall, MD, and did meet monthly at the Charlotte Hall Library, but have moved to Immaculate Conception Church Social Hall (at the back of the church), 28297 Old Village Rd, Mechanicsville, Md . Currently, we are the only Chapter in Southern Maryland, and our members come from the surrounding Maryland counties of Charles, Calvert, St. Mary's, Prince Georges, Anne Arundel, and even as far away as Montgomery County. SMDP has members who come paint with us from Northern Virginia, Delaware AND New Jersey too!

SMDP is a not-for-profit local affiliated Chapter of the Society of Decorative Painters ("SDP"), an international non-profit organization whose mission is to promote decorative painting. Members of SMDP must also be current members of SDP. For this reason, the dues of both organizations are affordable, just $20 to joing SMDP and $50 SDP (various typed and price membership options are available from SDP).

The Society of Decorative Painters is an organization made to help you become a better painter, regardless of your skill level. With your membership in SDP you'll receive four issues of "The Decorative Painter", an award-winning magazine that invites you to open its pages of inspiring projects, helpful articles and painting happenings from all over the world. Additionally as a member of SDP you will also be eligible for discounts at many merchants selling decorative art supplies, surfaces, patterns and much more. If you enjoy painting - or want to learn to paint, the magazine is more than worth the cost of dues to SDP.

As a member of SMDP you can broaden your knowledge of decorative painting through classes and seminars, build new friendships, be involved in community service projects and share your passion to paint with others.

If you love to paint, or would like to learn to paint, please contact us. We'd love to have you as our guest before joining, and we're sure to make you feel welcome when you decide to join us!

E-mail us at: president@SMDPaint.org or write us at
PO Box 235, White Plains, MD 20695-0235.

We would love to hear from you!
---